Association of vitamin D status and cardio-metabolic risk factors in children and adolescents: the CASPIAN-V study | BMC Nutrition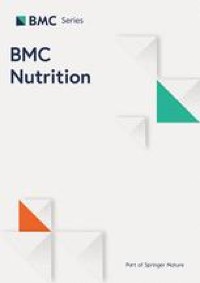 The present study examined the association between plasma vitamin D status and cardio-metabolic risk factors in Iranian children and adolescents. An inverse association was observed between plasma vitamin D and the prevalence of MetS. In addition, plasma vitamin D was inversely related to a number of MetS components. High FBG, low HDL, high TG, and abdominal obesity were higher in the vitamin D deficient group compared to vitamin D sufficient and insufficient groups.
Many cross-sectional studies have documented the relationship between low serum 25(OH) D level and MetS in pediatrics. However, there is inadequate evidence to support a causal link [12]. A study on 6311 US children and adolescents aged 6–18 years showed a potential adverse association between low serum 25(OH) D level and MetS components. However, the underlying mechanisms required further investigation [13].
A study on 3577 US adolescents showed a strong association between low serum 25(OH) D and hypertension, hyperglycemia, MetS, overweight and abdominal obesity [14]. Serum vitamin D levels were inversely associated with FBS, insulin, total cholesterol and TG in the Korean pediatric population [15]. Although local studies on the Iranian population revealed a relationship between vitamin D levels and type 2 diabetes [2, 3] a study on Iranian adolescents demonstrated that vitamin D levels associated with FBS [16] furthermore another study illustrated the relationship between vitamin D levels and obesity in adolescents [5] . Another study on 5867 US adolescents, aged 12–19 y showed an inverse association between serum 25(OH)D and prevalence of MetS phenotype, WC, SBP, and HOMA-IR [17]. Findings on 452 Caucasian children (304 overweight/obese and 148 healthy, normal weight) showed that low 25(OH) D levels were reversely associated with hypertension, total adiposity and MetS [18].
Findings of a systematic review that examine the association between vitamin D status and cardio-metabolic outcomes in generally healthy adults showed positive association between vitamin D insufficiency and disease risk. However, this association was not significant because of the heterogeneity across the studies [19]. Other systematic reviews showed an opposite relationship between vitamin D and cardiovascular risks [20, 21]. In a meta-analysis of 28 studies including 99,745 participants, 43% reduction in cardio-metabolic disorders was associated with the highest levels of serum vitamin D (OR 0.57, 95% CI: 0.48–0.68) [22].
A dose-response meta-analysis on the adult population reported an opposite association between serum 25(OH) D and MetS. This association was shown in cross-sectional studies but not longitudinal studies [23].
Differences in age, sex, country of the studied subjects and mean serum vitamin D levels among participants lead to inconsistency in results [8].
The biological mechanisms by which vitamin D may affect the MetS have not been completely clarified and is complex. Insufficient serum 25(OH) D can change metabolite function and lead to perturbation of many cellular functions including endocrine pancreas. Vitamin D status can be associated with cardio-metabolic risk factors because of the immunomodulatory and anti-inflammatory properties of vitamin D. Vitamin D mediates down-regulation of the production of pro-inflammatory cytokines, stimulate insulin production and improve insulin sensitivity [24, 25]. Vitamin D insufficiency increases C-reactive protein (CRP) level that has been linked to an increased risk of cardiovascular disease, obesity and MetS [26].
In the present study vitamin D deficiency was associated with dyslipidemia. The main component of HDL is apolipoprotein A-1. Vitamin D is essential for maintaining adequate levels of apolipoprotein A-1. In addition, vitamin D is needed for increasing activity of lipoprotein lipase. So, serum vitamin D can be correlated with dyslipidemia [27].
Our results did not show any significant association between low serum vitamin D and blood pressure. Framingham Offspring Study [28] and study on NHANES III data [29] showed an inverse association between 25(OH) D and hypertension or prehypertension. The potential mechanism of these association may be correlated with antihypertensive properties of vitamin D including renoprotective effects, suppression of the renin–angiotensin–aldosterone system, direct effects on vascular cells, and effects on calcium metabolism. However, additional studies are needed before recommendation of widespread vitamin D supplementation in the primary prevention of hypertension especially in pediatric population [30].
Metabolic syndrome is influenced by many factors such as obesity. A review of human, animal, and cellular studies showed inconsistent findings that a low serum vitamin D level was correlated with the cause of obesity [31]. The mechanisms of association between vitamin D deficiency and MetS in obese children should be elucidated in prospective studies and provide health strategies for decreasing the risk of obesity and metabolic syndrome among children and adolescents [32].
The prevalence of vitamin D deficiency among children and adolescents dependents on some factors including ethnicity, sex, physical inactivity, low sun exposure, increased TV watching, low milk intake and high soft drink intake that are also play a role in increased risk of MetS [32, 33]. The association between low serum 25(OH) D and MetS is a concern in pediatric population because children and adolescents with MetS are at an increased risk of future cardiovascular disease and type II diabetes. More studies for the assessment of the effects of vitamin D supplementation on MetS components and prevention of cardiovascular disease is suggested [17].
The strengths of the present study are the large sample size. Some limitations are cross-sectional, lack of imaging procedures and observational design thus we are unable to investigate causality. In addition, some potential confounders might affect our findings.